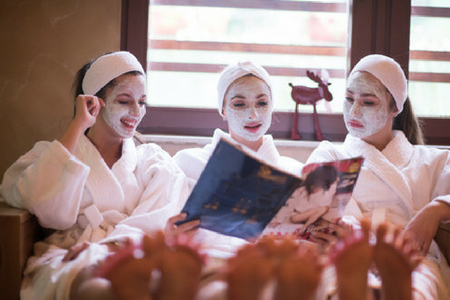 We are delighted to announce the launch of our new Teen Spa menu All about me, catering for teenagers aged 13-17 years.
Giving you the same quality of service at a more affordable price.
Let our skin care experts guide you on your teen journey to discover and show you how to take care of YOU...
Offering a range of treatments for both boys and girls, Pure Bliss are dedicated to re-educating you on your lifestyle choice and overall wellbeing to keep you cool, calm and collected!
T's and C's - All teen spa treatments are for ages 13-17. For clients under the age of 16 a parent or legal guardian must be present in the room at the time of treatment of massage, facial and waxing. 
**10% STUDENT DISCOUNT (OVER 18'S WITH STUDENT CARD)**
All
about
ME...
Facial
or
Back
Treatment
£20
Whether you are bathing blemishes or simply looking for a refreshing way to keep your skin smooth and gorgeous. We can take on the most complex of complexions.
Choose your focus treatments from one of the following 30 min facial or back treatments;
Squeeze ME - for extraction
Purify ME - for a steam cleanse
Radiate ME - for an intense glow mask
Enlighten ME - for skin care advice
*add OMNILUX light therapy £25
All
about
ME...
Massage
£20
Stress less with one of our muscle melting massages, to combat muscular aces and pains and help switch you off. Knot just your average massage!
Choose one of the following 30 min treatments;
Relax ME - Back, neck and shoulder massage
Soothe ME - Scalp, neck and shoulder massage
All
about
ME...
the
little
things
Tan ME - Fake bake original tan £12
Tan ME - Sunescope spray tan £15
Polish ME - file and polish (hands) £10
Polish ME - file and polish (foot) £10
Polish ME - Manicure £15
Polish ME - Pedicure £15
Gel Polish ME (add on) £5
Beautify ME - make-up application £20
Beautify ME - Make-up lesson £25
Wax ME - depending on area from £6
Chill
Pill
Back massage, scalp massage and facial
1hr only £35
Spa-rty
Celebrate your birthday at Pure Bliss. We can create your party to include any treatment. We can also arrange exclusive use of the salon for 2 hours on Sunday 10am-12pm. Please ask for more details.